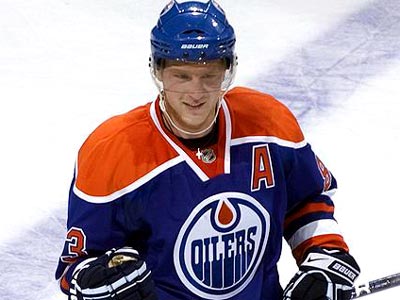 Ales Hemsky has had a tough season by the standards of a lot of players. But how has it been by the standards that he's used to? Think: Hindenburg, Three Mile Island, Exxon Valdez. Hemsky's 0.56 points per game is his lowest mark since his second NHL season back in 2003-04. Thankfully, his slump is due to end any time.
This year Hemsky has dropped into the second tier of offensive forwards in Edmonton. His total ice time (17:36 per game) ranks him 5th among Oilers forwards. He's averaging only one second less than Nugent-Hopkins, but almost a minute less than third-ranked Taylor Hall. Hemsky and Jordan Eberle are experiencing very similar total ice time this season, but don't let that confuse you with the way they are each being used.
Hemsky is doing a lot of heavy lifting
at even strength this season; second only to Shawn Horcoff in toughness of competition among the regular forwards. He's also starting his shifts in the offensive zone 50.7% of the time at even strength, so he's not getting much of a push from the coaching staff. Meanwhile, Eberle is facing the easiest competition of the top-six forwards and his shifts start in the offensive zone 60.2% of the time 5x5.
It's interesting that people assumed that the presence of some young offensive stars would free up Hemsky to knock easier competition out of the park. In fact, the opposite has been true. The desire of the coaching staff to shelter Eberle and Nugent-Hopkins has led to Hemsky being pitted against the toughs this year. As the kids mature and the workload gets spread around more evenly, the theory that more offensive players is better for Hemsky will actually hold water. For the moment, it's contributing to his struggles.
As for those struggles, there's less to worry about than it appears at first glance. Despite difficult opponents and the fact that he's coming off of major surgery, Hemsky
is driving the play in the right direction
. Only the very best players in the league can take on difficult competition with average zone starts and still take over the game. However, the hockey gods have not been smiling on Hemsky of late. His shooting percentage is sitting at 7.6% even with his three goal outburst against Nashville, but before this year he'd scored on 11.8% of his career shots. It's not as though there haven't been games where you forget Hemsky is in the lineup, but even when he's average he's still a good player. When he's on, he's very good.
Like Nugent-Hopkins, Hemsky can sometimes take over a game and be all over the ice, or he can barely be noticeable and still end the evening with points in the boxscore. He's adjusting to a new role for the Oilers, and handling himself quite well given the circumstances. When Craig MacTavish was head coach,
Hemsky was very sheltered
in terms of the competition he faced. Those days are over for him, but there's no indication that that means he has ceased to be an effective player. That's very good news for the Oilers and their fans. When the kids start taking on a heavier load, Ales Hemsky will be the perfect complimentary player.