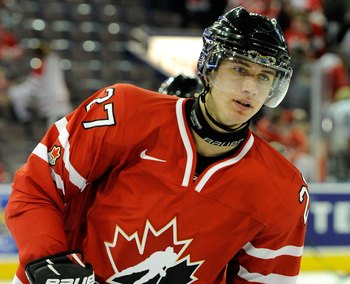 With all the hubbub around Kevin Lowe's comments about Ryan Murray being a (the?) top player, Oilers fans are left wondering if their team will be taking the young defenseman first overall. If so, what are the odds that he'll be a flop like Cam Barker? Let's take a look at both of their Junior careers in the WHL and try to determine the better player, at least before the NHL.
Ryan Murray
We'll deal with Murray first, as he is now the player of most interest to Oilers fans.
2009-10:
Murray's 16 year old season. 52 games played for Everett. 5 goals, 22 assists, 27 points, plus-33(!). The Silvertips won 46 games that year, which was tied for fourth in the league. As a team they scored 232 goals, and Murray was in on 11.6% of them as a 16 year old. He finished tenth on the team in scoring.
2010-11:
On September 27th Murray turned seventeen. 70 games played. 6 goals, 40 assists, 46 points, plus-18. Murray improved his stats despite his team falling off a cliff in the win department. They won just 28 games that season - 18 less than the year before. Five of the players ahead of Murray in points in 2009-10 were gone and one had his season shortened due to injury. Obviously, Murray's role increased substantially this year. He was third on his team in scoring (second-highest scorer Ryan Harrison collected 33 of his points with Medicine Hat before a trade). Murray was involved in 26.7% of his team's meager 172 goals as a 17 year old.
2011-12:
Murray's draft year at last, he played the full season as a new 18 year old. 46 games played. 9 goals, 22 assists, 31 points, Even plus/minus. Time was lost due to injury and the World Juniors, but he improved his points per game for the third consecutive year. The Silvertips were terrible once again, this time finishing with just 22 wins on the season and scoring just 185 goals. Murray was involved in 16.7% of those goals in just over two-thirds of the year.
Cam Barker
Barker played his last Junior game around four years before Murray played his first one in the regular season, but both were highly-regarded defensemen from the WHL.
2002-03:
Barker's 16 year old season. 64 games played. 10 goals, 37 assists, 47 points, minus-16. Medicine Hat was a bad team in 2002-03, winning only 29 games. They were bad because they couldn't keep the puck out of their own net. The team's 278 goals for was tops in the WHL's Eastern Conference and third in the entire league. This was a highly offensive team. Future NHLers Joffrey Lupul and Clarke MacArthur were ahead of Cam Barker, who finished 6th on the team in scoring. He was involved in 16.9% of Medicine Hat goals as a 16 year old.
2003-04:
Barker turned seventeen on April 4th of 2003, so he was 17 years old for nearly six months before the season started. This was also his draft year. He played 69 games and scored 21 goals, 44 assists, 65 points and was a plus-17. Medicine Hat was third-best in the WHL in wins with 40 and scored a league-high 277 goals. Barker was involved in 23.4% of them. Interestingly, that's 3.3%
less
than Ryan Murray was involved in with his team as a 17 year old and a September birthday.
2004-05:
Barker was closer to nineteen than he was to eighteen for most of this season, but nevertheless he was still only 18 years old until April of 2005. He picked up 15-33-48 in 52 games, and a plus-19 rating. Medicine Hat was tied for second the WHL with 45 wins and also tied for second in goals with 234. Barker was involved in 20.5% of them.
***
Because of their different birthdays, Murray had three full seasons in the WHL before being drafted and Barker only had two. Barker was almost six months older than Murray in each season listed, but their offensive contributions are not terribly far apart. Barker was also playing on some very good teams, while Murray's teams have been mostly terrible and anemic offensively.
But it's not just the offense that is interesting with these two. Central Scouting's B.J. MacDonald
said
that Murray is very sound positionally and that he wins all of his one-on-one battles. MacDonald also said that Murray's skating is probably the best in the WHL. Contrast that to what Red Line
said
about Barker in his draft year. Barker's skating was not a particular area of strength (and his speed is listed as a weakness), while his positioning was "a work in progress."
I'm of the opinion
that a player's Junior-level weaknesses are the most likely reason that that player never makes the NHL. There are no guarantees, but Cam Barker and Ryan Murray have been projected to be entirely different players based on their respective strengths and weaknesses. Unlike Barker, if Murray's offense never materializes he has other tools that will keep him at a high level of play.
It's impossible to know if it's worth using the first overall pick on Ryan Murray. If you're getting Scott Niedermeyer then it absolutely is worth it. But while any player can be a bust for a variety of reasons, it seems less likely that Murray will follow the path of Cam Barker.