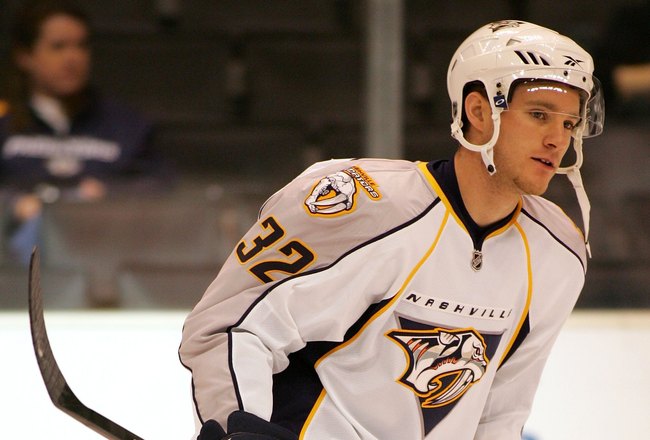 Twenty-four years old. Six feet and five inches tall. 213 pounds. Right-handed shot. Given those factors it's amazing that this player was traded already, let alone that he could move a second time in as many years. But there's more.
Franson found himself in the press box frequently in the 2011-12 season. Prone to some defensive errors, then-head coach Ron Wilson did not see fit to play the young rearguard. When it comes to the Oilers, those traits are not the type of thing the team would be inclined to add; especially now that Justin Schultz has entered the fold and can expect some growing pains.
On the other hand, Franson brings something that none of Schultz, Potter or Fedun can claim to: he's a proven NHL scorer from the back end.
Out of defensemen who appeared in at least 30 games in 2011-12,
Franson was 40th in points per 60 minutes of even strength ice time
. That's an important stat for defensemen, whose ice time can vary greatly depending on how much responsibility they are given. Franson's 14:36 of average 5x5 ice time was last of Leafs defenders, and yet his 0.96 points per 60 even strength minutes is right around or ahead of some much more noted players like Christian Erhoff, Michael Del Zotto, Jake Gardiner, Dan Hamhuis, and Mark Streit.
Franson saw 1:31 per game on the powerplay, and finished
15th
in powerplay points per 60 minutes out of all NHL defenders who played at least 30 games.
And this past season wasn't a mere blip on the radar. In 2010-11 Franson was 7th in the NHL in even strength points per 60 by defensemen with 30 or more games played. Averaging just 15:10 of total ice time per game that season, he nevertheless managed to score 8-21-29 in 80 games. The year before that, Franson posted 6-15-21 as an NHL rookie in just 61 games and averaged only 14:11 of ice time per game.
In other words: if this player can ever take on a bigger role, he could be one of the better offensive defensemen in the league. On a team like the Oilers that opportunity exists.
And opportunity is what it's all about for Franson. TSN's Jonas Siegel
reported
that Franson, a restricted free agent, is in no hurry to sign a new deal with a Toronto team that didn't allow him to play. Understandably, he wants the chance to get into an NHL lineup on a regular basis and to play a regular shift. The Oilers could use his blend of size and offensive skill.
It's not all roses and sunshine with Franson, however. Defensively he's still a work in progress, and his coaches trusted him with only the easiest of assignments and zone starts last year. If you're looking for someone to come in and shut down the opposition's best, you'd be advised to look elsewhere.
But on a team like the Oilers which got next to no scoring from the defense last season, Franson could be a fit. The team and the player could come together and match each other's needs quite well. It's hard to know exactly what the Leafs would be looking for in return, but with the way the organization has treated Franson thus far it doesn't seem like his value would be terribly high. That may end up being a costly mistake for the Leafs, and some team could greatly benefit from it.