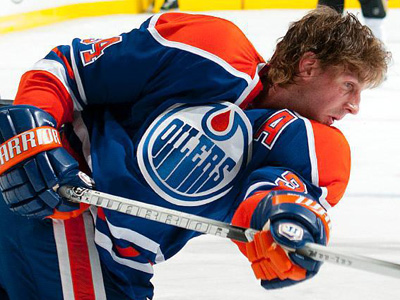 The mullet is no longer as fearsome as it once was. Ryan Smyth still has gas left in the tank, but his career is nearing its conclusion. After signing a new two year deal to stay in Edmonton, Smyth will have to hope that the Oilers can improve in a hurry if he is to have a chance to add a Stanley Cup to his list of achievements.
Smyth played all 82 games in each of the last two seasons; the only two times he did so in his five year $31.25 million mega deal. Health concerns would seem to be a thing of the past for Smyth, even at 36 years of age. And despite his advancing years, Smyth still brings a lot to the table. He was second on the Oilers in total shots on goal in 2011-12 with 194 (of course it was one hundred and 94), third in goals with 19, fourth in assists with 27 and fifth in points at 46.
The story of Smyth's first and second half of the year has been well documented. He had 32 points (15-17-32) in the first 41 games of the season and just fourteen more points (4-10-14) in the last 41 games. He had 107 shots in that first half (2.61 per game) and scored on 14% of them. In the second half he had 87 shots (2.12 per game) and scored on 4.6% of them.
So Smyth lost a little something in the second half of the year, and this data supports what was obvious to those watching the games. He also went from having good puck luck in the first half to very bad luck in the second half. On the other hand, Smyth is still a capable forward who can chip in 15-20 goals for just $2.25 million per season, which is a bargain. So why is he falling?
The main points against Smyth going into next season are his age and his opportunities. With the addition of Nail Yakupov,
who Ralph Krueger wants to play on the left side
, and Taylor Hall already in place, there won't be much room for Ryan Smyth in the top six unless injuries strike. The many young and talented Oilers forwards will also take a big chunk out of Smyth's powerplay time, and he is more likely to find himself in a tough-minutes role with Shawn Horcoff.
Horcoff has seen some tough sledding in the last few seasons, facing the toughest competition available and starting his shifts away from the offensive zone much of the time. And while Horcoff never had the same offensive upside as Smyth (Horcoff has just two 20 goal seasons), facing the toughs has been hard on his production. Smyth is likely to face a similarly difficult test, and in February he'll be 37 years old.
For Smyth, matching his 2011-12 season would be fine, but he's probably more likely to slip in the wrong direction. There's room for debate on the issue of Magnus Paajarvi vs. Ryan Smyth and who the Oilers are better served giving ice time to, but Smyth is still a valuable forward. He's just not as valuable as he once was.