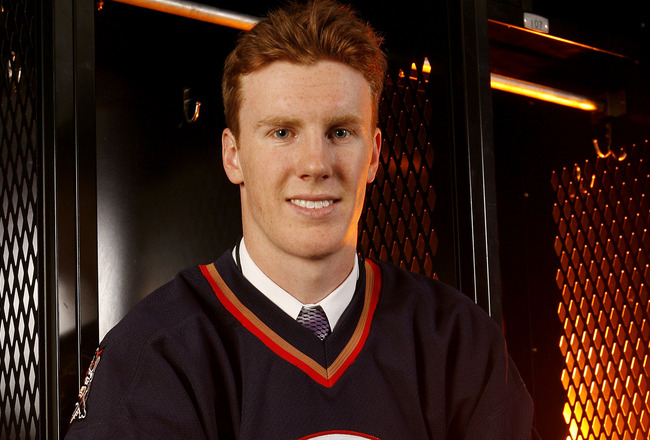 After a season where the Oilers finished 26th in the overall standings, they made just six picks in 2007. How's that class looking now?
Sam Gagner 6th Overall:
Second in total games played from this entire draft class, Gagner is also second in goals, assists and points. Not bad for the sixth pick in a relatively weak draft. Only 26 players from this class have appeared in at least 100 NHL games so far, and it could be argued that Gagner was the best player taken from slots 2 through 8. Good luck in Austria, Sam.
Alex Plante 15th Overall:
This pick came to the Oilers as part of the Ryan Smyth trade with the New York Islanders. The Oilers decided to pass on highly-touted Russian Alexei Cherapanov, who died tragically in 2008 while playing for Avangard Omsk, and called Plante's name instead. The 6'4", 230 pound defender was selected for the 2011-12 AHL All Star Game, but also battled concussion issues. Still unable to crack the NHL lineup full-time, Plante is entering his third season with the Oklahoma City Barons, and fourth in the AHL. Now would be a good time to take a step forward if possible.
Riley Nash 21st Overall:
The Oilers traded the 30th and 36th picks to move up to the 21st slot and take Nash. A strong scoring threat in the BCHL with 38-46-84 in 55 games, he has yet to translate that offense to the pro game. In 2010 the Oilers traded Nash to Carolina for a pick that became Martin Marincin. So far Nash has appeared in 5 NHL games and collected one assist. He's entering his third full AHL season with the Charlotte Checkers, with whom he has played 139 games (including this season) and tallied 53 points.
Linus Omark 97th Overall:
We all know the story with Omark, who was simply the square peg to the Oilers' proverbial round hole. For some reason Omark was qualified by the Oilers in the off season and his rights remain with the organization for the time being. Since his exodus to the Swiss League, Omark has collected 5-11-16 in 12 games. He's a capable enough scorer in lesser leagues, but there probably isn't enough offense (8-22-30 in 65 NHL games) to keep him in the NHL.
Milan Kytnar 127th Overall:
Kytnar signed in the KHL in May of 2012 and that's where he is currently plying his trade. He made his NHL debut (in what may be his only NHL game) on January 11th of 2012. His offense, which carried on at roughly a point-per-game pace in the WHL, dropped off in the pro game. In 91 AHL games he has picked up 32 points.
William Quist 157th Overall:
The Oilers requested that this large forward come to the CHL after being drafted, but instead he signed in Sweden. Fell off the face of the Earth in short order, and was never in danger of being a legitimate NHL player.
***
Despite some flashes from a few of these players, the Oilers seem to have wiffed on all but their first pick in this draft. Alex Plante still has a chance to be a player, and the Oilers managed to turn a mistake (Riley Nash) into a legitimate defense prospect (Martin Marincin). Considering that this draft was particularly weak, the outcome could probably have been much worse.