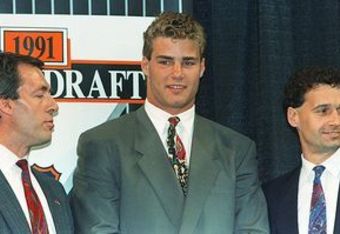 That loss to Russia put the Oilers' loss earlier in the evening in perspective. It was a valiant effort by the Oilers on Tuesday despite fatigue and a depleted lineup, but this appears to be a team destined for another finish near the bottom. But could Edmonton trade the resulting high draft pick? And just as important:
should
they?
The young man pictured above on his draft day is Eric Lindros, who was selected first overall by the Quebec Nordiques in 1991. After refusing to play in Quebec he was traded to Philadelphia for a monster package that was a big reason that Colorado won two Stanley Cups. Lindros, meanwhile, never won one.
In exchange for Lindros the Nordiques received:
Peter Forsberg, Ron Hextall, Chris Simon, Mike Ricci, Kerry Huffman, Steve Duchesne, two first round picks (one of which became Jocelyn Thibault who was part of the package for Patrick Roy) and $15,000,000 cash.
Trades of that magnitude are probably a thing of the past; not least of all because it would be too difficult to balance out the cap hits. On the other hand, if a team were to trade Russian sniper Nail Yakupov, how much could they get for him?
Suppose for a moment that the Oilers drop all the way to 30th for a third straight year, or they finish in the bottom five and win the draft lottery. A lot would have to go right (or wrong, depending how you look at it), but the Oilers could find themselves in a position to draft a winger who is seen as a future superstar. Before going to the World Juniors, Yakupov had amassed 21-32-53 in just 26 games with Sania of the OHL, and he's also a plus-21.
But if one thing has been made clear over the course of this season, it's that the Oilers aren't one more sniper away from contending for a playoff spot. If the Oilers had the chance to get their hands on Yakupov, they may be better off trading him for a package of players and prospects that could help them in more ways than Yakupov could.
In fact, an argument could be made for trading any of the top rated forwards if they are the best available when Tambellini steps up to the podium in June. The Oilers need an array of help and they have good enough forwards to make this kind of move.
Every NHL team would love to have one of the forwards that will go high in this year's draft - including the Oilers - but if Edmonton can turn that forward into an actual NHL-calibre defense, then it's at least worth looking at. If by chance they have the first pick overall, the bounty could be all they need to round out this team.
Despite all that, it sure would be hard to pass on Yakupov after that performance against Canada in the WJC (and those numbers in Junior). All the Oilers' losing could eventually become a win-win. Maybe.