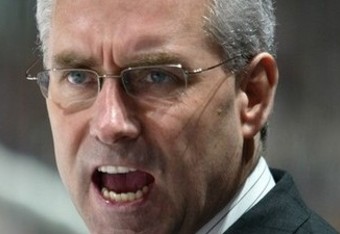 Coaching an NHL team is a difficult job, and I can never claim to have it on my resume. Well, it's on my resume, but it's a lie. Having said that, I'm not alone in having a few questions about the decisions that Tom Renney has been making behind the Oilers bench.
There was an interesting article
on The Copper and Blue after the Oilers' loss to the Sabres on January third. It's true that it's difficult to get the matchup that you want while on the road and getting players into the right circumstances can be tricky. Nevertheless, Renney's continuous deployment of his fourth line in the Buffalo game lead directly to the Oilers loss. It was as though he believed that the arrival of Josh Green on that line was somehow going to make it better, in spite of the evidence that he was witnessing in the game. Why Green (who finished the night a minus-4) wasn't stapled to the bench after the third goal is beyond comprehension.
Aside from that, there's the matter of ice time. Early in the year Renney clearly felt the need to shelter his young players with mostly offensive zone starts, and it seemed to be working because the team was winning. In fact, Nugent-Hopkins, Eberle, and Hall
still have the highest percentage of offensive zone starts among the regular forwards
. There's nothing wrong with giving the kids the best opportunity to succeed, but the trouble is that the whole game isn't played under favorable circumstances; especially for a bad/young team.
Jordan Eberle and Taylor Hall are obviously two of the Oilers' absolute best players, and they should receive ice time accordingly when it's deserved. Eberle is currently sitting in 6th among Oilers forwards in
even strength
ice time per game, even though he is clearly the most potent offensive threat. Taylor Hall is fourth. Predictably, Horcoff, Hemsky and Smyth are averaging more. But in what way is that coaching to win? Eberle and Hall have got to be handed the reigns at some point and be given more time to do their thing on the attack.
It's understandable to shelter Nugent-Hopkins because he is a raw rookie, and when he was playing with Hall and Eberle that meant the latter two were sheltered by default. Now that the rookie phenom is out for a month, it will be interesting to see how Renney distributes the ice time. The two games since RNH went out have not been encouraging. In those, Smyth played 18:33 and 23:31. Hemsky played 18:59 and 18:05.
Eberle played just 15:04 in Buffalo and 17:28 in St. Louis, while Hall was on the ice for 21:37 and 17:15.
I would be better able to understand giving ice time to the veterans over the young players if the team was winning, but it isn't. One way or another, something has got to change. Yes, the young players are still putting up points, but imagine what they could do with more time 5x5. Even if they get overwhelmed, is it going to be any worse than losing 14 of the last 20? At least if the win/loss ratio was exactly the same, we'd be more entertained.