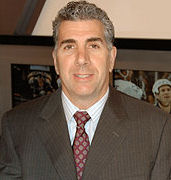 Craig Button
Every year as the NHL Entry Draft approaches, Craig Button releases "Craig's List," which is a compilation of the top ten prospects as he sees them. This year Button has Nugent-Hopkins pegged as the first overall pick, but how much stock should fans put in what he thinks?
When people talk about Button, they often reference his time as a scout for the Minnesota/Dallas organization and his selections of Jarome Iginla and Brendan Morrow. To have selected those two players makes Button's career a successful one, but how good was he really at spotting talent? Pretty darn... just okay, as it turns out.
Button served as a scout for the Minnesota North Stars from 1988-1992. During that span, the team made 53 selection in the draft. There's no way to know how many of those picks were Button's, but the team's drafting record was mixed with him as a part of the staff.
1988:
Mike Modano first overall (no brainer; the talent after Modano was not really in his league). Other than that, this draft was bare for Minnesota. Link Gaetz played 65 games, and Travis Richards played 3. All of the other combined 6 picks combined for 0 games played in the NHL.
1989:
Doug Smolek 7th overall, who played 467 games. Mike Craig in round 2 (423 games), Arturs Irbe 196th overall, and Tom Pederson 217th overall. 13 picks this year, and Irbe is arguably the only one that turned into something. The players listed here each played at least 200 NHL games, but the other 9 picks did not. The first round of this draft was weak, but the North Stars left Bobby Holik and Mike Sillinger on the board who would be taken 10th and 11th overall. (Not to mention Lidstom, Bure, etc. in later rounds.)
1990:
Derian Hatcher 8th overall. Home run. Enrico Ciccione played 374 games, and was taken 92nd overall. Roman Turek taken 113th overall. 12 picks, 3 players. Everyone else busted.
1991:
Richard Matvichuk 8th overall. Solid pick. 9 others were taken by Minnesota, and none of them played 200 or more games in the NHL.
1992:
Minnesota's third pick, 88th overall, was Jere Lehtinen. Another solid pickup, but one of the few past round one that panned out for the North Stars. 9 picks that year, Jere Lehtinen and 8 busts. This was Button's first year as Director of Scouting.
All in all, that's 10 of 51 picks that played at least 200 NHL games, or 20% of the total. In terms of actual impact players, the North Stars managed 6 of 51, or 12%.
It's as Director of Scouting that we can really start to judge Button's performance and his impact on the draft. He was the head honcho from 1992-1998, and here's how he did:
1992:
See above
1993:
Todd Harvey 9th overall, Jamie Langenbrunner 35th overall, Per Svartvadet 139th overall. Harvey was a decent pick, but better players in Bertuzzi and Saku Koivu were still available. Langenbrunner is a great pick. 10 picks, 3 players with 200+ games.
1994:
Jason Botterill 20th overall :( and Marty Turco 124th overall. Botterill played only 88 games. Of the 8 Dallas picks this year, only Turco panned out. All the others were busts.
1995:
Jarome Iginla 11th overall. All Oiler fans know how good this pick was. However, none of the other 9 Dallas picks played more than 200 games.
1996:
Richard Jackman (5th overall) played just 231 games. Jon Sim (70th overall) played 469 so far but isn't an impact player, and Joel Kwiatkowski managed to get into 282 contests. 8 picks, no impact players, 6 busts.
1997:
Brendan Morrow 25th overall with Dallas' first pick, and Brett McLean 242nd overall with their last pick. McLean played 385 NHL games and Morrow is still going, but none of the other 7 picks became players.
1998:
John Erskine 39th overall and Niko Kapanen 173rd overall. Only 6 picks this year, 4 of which were busts.
Under Button's stewardship the team made a total of 60 picks (Minnesota's 1992 draft included). Of those, 13 played 200+ NHL games (22%), and 6 played 500 or more games (10%).
Take from those numbers what you will, but also take them with a grain of salt. Scouting was not as developed in Button's day as it is now, and so his effeciency may be somewhat skewed because of his not having
seen
all the draft-eligible players in a given year.
As
head scout
, Button plucked 5 very-good-to-elite level players: Morrow, Iginla, Turco, Langenbrunner, and Lehtinen. The former two were taken with Button's first pick in their draft year, and the latter 3 were taken in later rounds. Not bad to get 5 very good players in 7 years of drafting. The other 55 picks were mostly disappointments, however.
Button's first selections in each draft are as follows:
Jarkki Varvio (13 gms), Todd Harvey (671 gms), Jason Botterill (88 gms), Jarome Iginla (1106 gms), Richard Jackman (231 gms), Brendan Morrow (749 gms), John Erskine (396 gms).
Just like any scout, Button is not immune to the dreaded first round bust. Iginla was a very good pick at number 11 overall and so was Morrow at number 25, but Jackman was a bust at 5th and so was Botterill at #20.
So how much stock should you put into his eye for talent?
Probably somewhat more than the average, but don't take his word as Gospel. Just like everyone else, Button has been seduced by the sublime skill of Ryan Nugent-Hopkins, but the rest of his prospect list shouldn't necessarily have any more weight than the next scout. That may sound like a truism, but it's necessary to note for a guy whos opinion is coveted because of a few draft selections that worked out. This is still the man who released Marty St. Louis back when he was General Manager of the Flames (thanks for that, by the way, Craigy-boy).
Then again, Button has been around the game and player development for better than 20 years, so what he says should be listened to more than Joe Blow Blogger.
But come on back and read the blogs anyway. We update more.