K-Prend and K-Lowe with Sam Gagner

On Monday an article appeared here about Craig Button and how much we should believe what he thinks about prospects. It turns out that in the time Button was head scout he made 60 picks in 7 years and 13 of them played 200 or more NHL games. What we need now is a little context.
Above is Kevin Prendergast, who served as the Oilers' head scout from 2000 to 2007. Most fans will tell you that Prendergast was an awful head scout and that his drafting record was atrocious. In fact, the Wikipedia article on Prendergast says:
"Aside from

Ales Hemsky

whom he drafted in 2001, his drafting record during his tenure was abysmyl, and is probably the biggest factor in the oilers current struggles."
That seems a bit harsh, but it's an opinion that was apparently echoed by the higher-ups, since Prendergast was removed from the position after 2007. Admit it, you're thinking he was terrible right now.
So let's compare Craig Button, who most people consider to have been a good scout (and was certainly above average) to Kevin Prendergast, who most people consider to have been an epic failure.

Jeff Petry
 Since a lot of the picks that Kevin Prendergast made were too recent to judge just yet, we'll have to extrapolate career paths for them. 200 NHL games will be the benchmark. If they can be expected to play that many, they will make the list as a somewhat successful pick. 500 or more games will be the next level, and will make for a very good pick. Only players that meet or probably will meet the 200 game plateau will be listed.
Prendergast:
2000
: Brad Winchester (323 games, 35th overall), Matthew Lombardi (446 games, 215th overall)
2001
: Ales Hemsky (490 games, 13th overall), and Jussi Markkanen who doesn't count at only 128 games, but damn did he ever play well in the final. Sigh.
2002
: Jarret Stoll (515 games, 36th overall), Matt Greene (379 games, 44th overall)
2003
: Zack Stortini (256 games, 94th overall), Kyle Brodziak (337 games, 214th overall)
We begin to extrapolate:
2004
: Devan Dubnyk (looks like he has the right stuff to play 200, 14th overall); not counting Rob Schremp but he'll probably play 200.
2005
: Andrew Cogliano (328 games, 25th overall)
2006
: Jeff Petry and Theo Peckham, who will both play at least 200 on a weak Oilers defence, but could also turn into legit players.
2007
: Sam Gagner (291 games, 6th overall), Linus Omark (if Robert Nilsson can play 252 games, Omark certainly can play 200)
Count em. That's 13 players over an 8 year span of drafting who have already, or will one day play 200 NHL games. Button had 13 in 7 years.
As for the 500+ game players, Button had 6: Harvey, Langenbrunner, Turco, Iginla, Morrow and Lehtinen. Erskine and Sim will probably get there too, which makes 8.
Prendergast has (or will probably have) around 7: Lombardi, Hemsky, Stoll, Greene, Brodziak, Cogliano, Gagner. Petry, Peckham and Dubnyk might make it too, but they have a long way to go to be in that conversation so they don't count yet. There's no Jarome Iginla on this list, but Hemsky is more than a match offensively for the other players drafted by Button.
Prendergast had 4 first round busts and Button had 3.
Winner: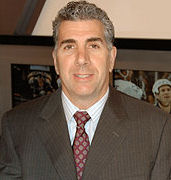 Mr. Button wins! It's no surprise that this guy was a better scout than Kevin Prendergast, but it's actually a lot closer than one might think at first glance.
***
The point of this is not to call out Craig Button and say that he was a worse scout than he was, and it's not even about calling Prendergast horrible for the 894, 000th time (although I do love when the odometer ticks over to an even number like that). It's a message about how truly finicky and difficult the draft is, and giving some context to fans when it comes to the record of a scout.
By most fan accounts, Craig Button was a great scout and Kevin Prendergast was a terrible one, but their records aren't really as far apart as they should be if that were the case. More than anything, it's that one pick of Jarome Iginla that really sets Button apart, and rightfully so. But that's how razor-thin the margins are from being a hero to a goat in the NHL draft.