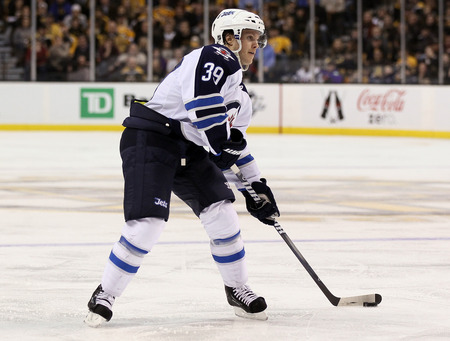 The organizational strength of the Winnipeg Jets is on defense, and the Winnipeg Sun
wondered aloud
if a player like Tobias Enstrom could be a trade chip for a top-six forward. Could the Oilers mine their Manitoba neighbors for help on the back end?
The Jets' third-highest scorer in 2011-12 was Dustin Byfuglien with 53 points, while Enstrom and Zach Bogosian were eighth and ninth on the team respectively. That's three defensemen with at least 30 points, and the latter two missed significant chunks of the season. By contrast, the Oilers didn't have
one
defenseman who had at least 30 points, with Jeff Petry leading the way at 25 points in 73 games.
The interests of the two teams appear to be in line, as the Jets could use some help up front. With enigmatic center Kyle Wellwood a pending UFA coming off a career high of 47 points, and Alexander Burmistrov's development moving at a glacial pace, the team could use a boost up the middle. At right wing, Blake Wheeler led the Jets in scoring with 64 points but after that the position is pretty thin. Antti Miettinen was second of their natural right wingers with just 13 points in 45 games.
71% of 1218 people who responded to a Winnipeg Sun poll agreed that trading Enstrom for a top-six forward would help the Jets. The trouble is that Enstrom can become a UFA after next season, and every team in the NHL will get a crack at him if the Jets can't work out a deal. However, there is an appetite in Winnipeg to shuffle the defensive deck if it can land a forward.
Making things even more interesting for the Jets is the fact that AHL All-Star defenseman Paul Postma looks ready for an NHL job next season, after posting 118 points in 188 games on two farm teams. With six NHL defensemen already under contract for next season, something has got to give in Winnipeg.
Postma might end up being the chip the Jets use to upgrade their offense, and his price tag won't be outrageous. He could probably be had by a team like the Oilers, but because he has played just four NHL games there would undoubtedly be some growing pains. Postma is 23 years old and his offensive prowess at the AHL level (points per game) has been superior to that of a player like Jeff Petry and in an entirely different class than Corey Potter's. Some questionable defensive work has been a knock, and may scare teams like the Oilers away.
There aren't many teams in the NHL that have enough quality defensemen to think about moving one, but the Jets are such a team. There are also a load of defensemen projected to go at the top of the draft, and Winnipeg controls the ninth overall pick. From small trades like a Postma deal, to a major blockbuster involving names like Enstrom, Bogosian or the ninth overall pick, there's plenty of room for movement.