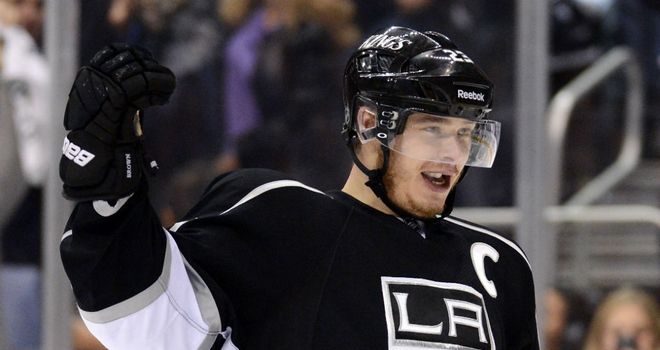 Congratulations Los Angeles. Your Kings have won the ultimate hockey prize. Here are a load of thoughts about this, that and some other things.
- Plenty of Oilers fans can remember the growing pains with Matt Greene. In 2006 he was a raw rookie with no NHL playoff experience and his getting to the Final seemed like a happy fluke. He's no Drew Doughty, but Greene did contribute the second-most shorthanded ice time of any Kings player in the post season and fit nicely into his role. Great to see him get an unexpected goal in Game Six, and of course to hoist the Stanley Cup.
- Ditto for Jarret Stoll, who is a good soldier wherever he goes and made some key contributions. Although the best single player went to Edmonton in the Visnovsky trade, the Kings got two pieces that they needed and helped to get them over the top. The Oilers will likely have to make a move like this at some point, so when it happens keep Stoll and Greene in mind.
- Dustin Penner deserved some good news after a very tough year. Whatever you think about Penner as a player, as a person he's hard not to like. This strong run should keep him in the NHL where he belongs. Insert pancake joke here.
- Congratulations to Colin Fraser as well. Like Penner, he lifted the Cup for the second time on Monday. I can't help thinking about Ryan Smyth when Fraser is brought up, and wondering what could have been if he'd played out his contract in LA. If the Oilers don't end up re-signing Smyth it will be an extremely sour moment in his career.
- Good though the Kings were, they aren't actually
this good
, right? Quick's 0.946 save percentage in the playoffs is fantastic but unsustainable. LA was a perfect 4-0 in overtime. They allowed just six powerplay goals on 76 opportunities, a 92.1% kill rate. 16-4 is an 80% win rate, while the highest in the regular season was Vancouver's 67.7%. The Kings were certainly a team that underachieved during the regular season, but that doesn't mean they'll go 65-17 next year. Of course, that's the beauty of a short tournament to decide a champion, and the Kings deserved every bit of their win.
- Thought this tweet during the game was fantastic:
Luckily for Jeff Carter, that didn't happen.
- We in Edmonton forget how spoiled we were to have five Stanley Cups just eleven years after entering the NHL. Congratulations to all of the Los Angeles Kings, their fans, management, ownership, and to everyone who has waited since 1967 for this moment.